Teri Lyn Mannes (Principal and 4th Grade)
Email Teri Lyn Mannes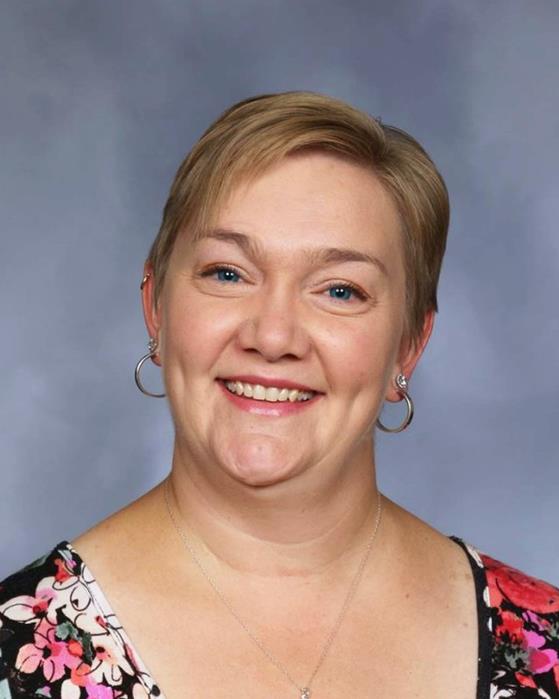 Mrs. Mannes has been a lifelong member of St. John's and earned her masters in Early Childhood Special Education from Northeastern Illinois University.
Mrs. Mannes completed her bachelor's degree at Concordia University in River Forest. She was baptized and confirmed here, and also attended St. John's school from kindergarten through 8th grade. She worked in Extended Care while in high school; has taught preschool and kindergarten Sunday School; and served on the KidFaith committee. St. John's has always been a part of her life, and she is thrilled to be a part of the faculty, and now principal. Mrs. Mannes says, "What a privilege to be a part of educating young children the same way that I was! I am so glad that God called me to St. John's."
Mrs. Mannes lives in La Grange Park with her husband, Patrick, stepson, Jordan and their two dogs. She enjoys bike riding, gardening, baking and traveling.
Kathy VerVynck (Preschool 3 year olds)
Email Kathy VerVynck
Mrs. VerVynck began teaching at St. John's in 1996.
Mrs. VerVynck received her Bachelor of Science in Education at Southern Illinois University in Carbondale, Illinois.  She is widowed with three children- daughters Megan and Stacey who have both become teachers, and son, Kyle who is a chef at Uncle Bub's in Westmont.
The VerVyncks have been members of St. John's Lutheran Church and School since 1985 and all three children attended St. John's. Kathy has taught 4 year old preschool and a Parent-and-Me class for 2 year olds. She is currently teaching 3 year old preschool and Kindergarten and is the Extended Care Director.
In addition, she has been active at St. John's in a number of other areas such as serving on the nominating committee for several years and coaching varsity and junior varsity basketball for 19 years.
She enjoys playing all types of sports, long walks, spending time with her children and grandchildren and traveling. Kathy believes she was called to St. John's to aid families in the spiritual and intellectual growth of their children.
Sue Cappa (Preschool 4 year olds)
Email Sue Cappa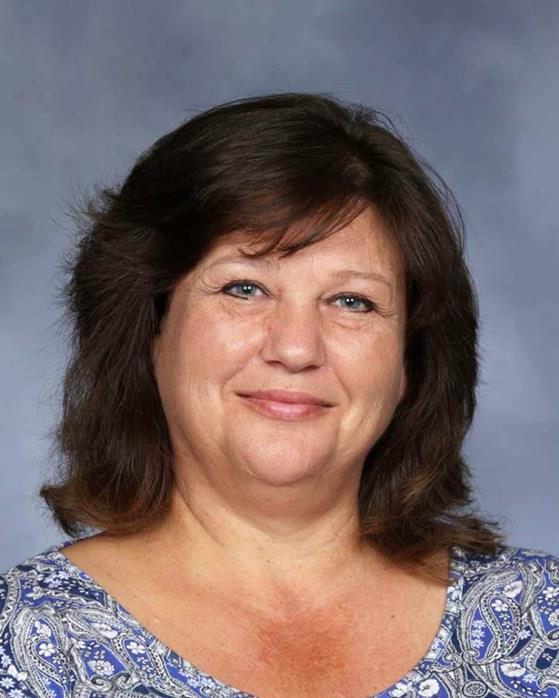 Mrs. Cappa attended Concordia University, River Forest, where she received her Bachelor's degree in 1989. She began teaching four year-old preschool at St. John's in 2007.  In 2013 she received her Master's degree in Early Childhood Education.
Mrs. Cappa became a Lutheran School Teacher to serve the Lord with the talents with which she has been blessed. Christian Education lets her share both her knowledge and her faith with others.
Outside of school she enjoys scrapbooking and crafting with friends. Mrs. Cappa also enjoys spending time with her husband Vince, and family night with her two sons and extended family.
Melissa Roberts (Kindergarten)
Melissa Roberts began teaching Kindergarten at St. John's in 2019.  She received her B.A. in Elementary Education and Psychology at the University of Richmond in Richmond, Virginia. She did her student teaching in Kindergarten and 5th grade at Bensley Elementary School in Chesterfield County, Virginia. She then taught 4th Grade for several years at the same school. The Lord then redirected her path to Albuquerque, New Mexico where she took a hiatus from teaching and worked as a real estate closer. 
She met her dear husband, Ben, in Albuquerque. Melissa decided to stay home when her daughter, Grace, was born. Melissa's passion for early childhood education was truly ignited when she became a mother! The Roberts family relocated to St. Louis, Missouri in 2003 for Ben to attend Concordia Seminary. Over the years of raising her children, Grace and Owen, and moving to multiple locations, Melissa has worked in a variety of occupations part-time, including childcare, preschool teacher, preschool aide, substitute teacher, church secretary, and wellness consultant. All the while, she was and continues to be actively engaged as a wife and mother. She always made time to volunteer weekly in her children's elementary school classrooms. In addition, she has served as a MOPS coordinator, MOPS mentor mom, and as an early childhood Sunday School teacher. 
Melissa's husband, Ben, was called to be the Senior Pastor of St. John's in August of 2017. She loves being back in the midwest as she was born in this area. In her free time, Melissa enjoys cooking, reading, walking the family dog, sports, helping others live a healthier lifestyle, volunteer work, and spending time with her family. Melissa most recently worked at St. John's as a preschool aide and 4th grade teacher. Melissa's true passion is teaching Kindergarten! She feels truly blessed to work here at St. John's, and is thankful to God who continues to guide, direct, and bless her life.
Holly Hackelberg (1st grade)
Email Holly Hackelberg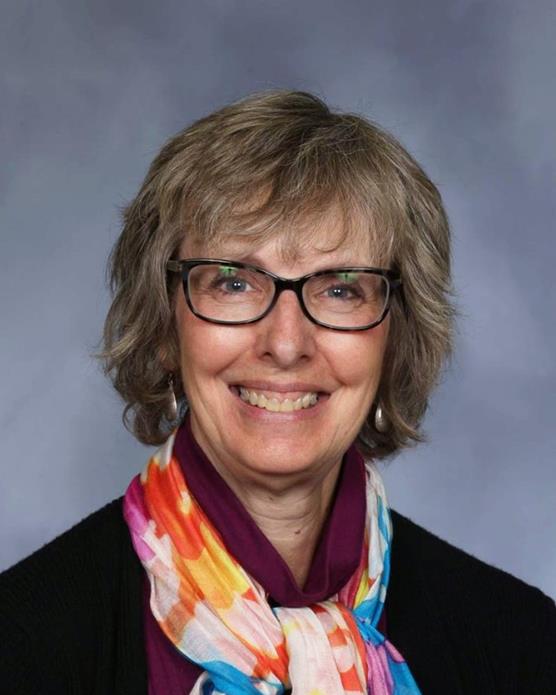 Mrs. Hackelberg has been teaching first grade at St. John's since 1995. She received an AA degree from Concordia College, Ann Arbor in 1980. Mrs. Hackleberg earned her bachelor's degree in elementary education from Concordia, Chicago (then River Forest) in 1982. She earned her M.A. in Curriculum and Instruction from National Louis University in 1999. Her graduate research project was on motivating independent reading. Staying current with the latest research on how children learn to read is her area of greatest academic interest.
She feels it is a privilege to teach at a school where the teachers are committed to excellence and consistently put the needs of their students above their own interests. It is very motivating to teach with such dedicated and supportive colleagues and they make her want to continue to improve. She has been blessed to teach at St. John's and is thankful that God led her here.
Mrs. Hackelberg enjoys working with 6 and 7 year olds because, in spite of the routines, every day is different. Each child is a special gift from God and brings his or her unique personality to the class as a whole. Every child is different and she encourages her students to accept and care for each other.
Many influences led to her becoming a teacher in a Lutheran school. While attending a Lutheran school through 8th grade, she experienced the support of an extended Christian family. She was given opportunities as a young person to teach Sunday School and VBS, coach and babysit. Through these experiences, she knew that God was calling her to teach young children and he has affirmed that decision by blessing her with a love of teaching.
Mrs. Hackelberg makes her home in Woodridge. Her adult children, Kate and Paul, are proud graduates of St. John's. She enjoys reading and quilting and shares both of her hobbies with her students in the classroom.
Katie Pece (2nd grade)
Email Katie Pece
Ms. Pece earned her Bachelor's Degree in Elementary Education from Valparaiso University in 2004. After Valpo, she taught Kindergarten for six years at Oak Brook Christian School. In 2007, she also received her Master's Degree in Curriculum and Instruction from Concordia University Chicago. This year Ms. Pece has completed the Colloquy Program, a program regarding Lutheran doctrine for Lutheran teachers serving in a Lutheran school to become a Called Teacher.
Ms. Pece began teaching Second Grade at St. John's in 2010, and she feels very blessed!  She sees each student as a unique Child of God and loves being part of the learning and growth that takes place in the early childhood years.  Ms. Pece has coached multiple sports and loves being active!  Ms. Pece is thankful for the privilege to be part of the St. John's community, and strives to promote a loving, Christ-centered classroom environment of learners to best individually meet each student's needs.
Ms. Pece lives in Darien, IL.  She enjoys spending time with family and friends, and has many hobbies that include exercising, traveling, cooking, shopping, reading, and Chicago sports!
Ms. Pece enjoys being active at St. John's serving in Women's Ministry and Vacation Bible School.  She has also taught Sunday School, been a Youth Group Leader, and has attended four LCMS National Youth Gatherings. Ms. Pece believes it is a joy to be a Christian educator, Serving the Lord with gladness (Psalm 100), and "Always giving thanks to God the Father for everything." (Ephesians 5:20)
Julie Strasser (3rd grade)
Email Julie Strasser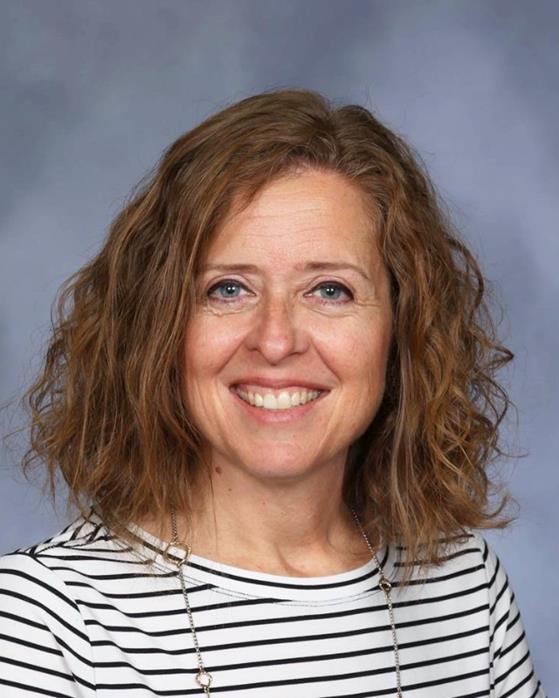 Mrs. Strasser earned her undergraduate degree in Elementary Education at the University of Iowa, and her masters degree in Language and Literacy at National Louis University. She completed her colloquy training at Concordia University in preparation to be a Called teacher in a Lutheran school.
Mrs. Strasser grew up in LaGrange and was involved in church youth activities, sports, and music. Later she spent almost ten years down in Las Cruces, New Mexico, raising her family, and helping plant and grow a Lutheran elementary day school at Mission Lutheran Church, and a daughter congregation, Faith Lutheran Church.
She has a variety of teaching experiences with which God has blessed her. She taught one year as an instructional assistant in 5th grade at Prospect School in Clarendon Hills. She went on to teach 5th grade at Fourth Street/ Coultrap Elementary School in Geneva, Illinois, for four years, and 4th grade for two years. After taking time off to stay at home with her children, Mrs. Strasser returned to teaching at Mission Lutheran School in Las Cruces, New Mexico where she taught a combined 2nd-3rd grade class, and combined 2nd-3rd-4th grade class, part time. She has been blessed to be teaching 3rd grade since 2008!
Mrs. Strasser's hobbies include anything active that involves her family, friends, or serving God by helping others through teaching in Vacation Bible School, participating in Bible study, packing meals at Feed My Starving Children, reading, traveling, going to Ravinia, running, swimming, and attending theater productions.
She loves teaching and sharing in the learning process, and especially enjoys taking classes and workshops to help her grow. As children of God, and it is a special privilege to be able to share our faith journey together, through the gift of the Holy Spirit, with the people God places in our lives. "For God knows the plans He has for you," declares the Lord, "plans to prosper you and not to harm you, plans to give you hope and a future." Jeremiah 29:11
Laura Grisafe (Physical Education)
Email Laura Grisafe
Biography Coming Soon
Amanda Murphy (Music, grades 1-4)
Email Amanda Murphy
Mrs. Murphy went to Dalhousie University in Nova Scotia, Canada, where she was born and raised. She studied for her Bachelor of Music with a major in vocal performance.
Amanda left after two years to pursue a career in Musical Theater. She went to the American Musical and Dramatic Academy in New York City, where she had conservatory training as a performer. There she met her singing teacher and mentor, Thomas Parisi, and she teaches his techniques today. After moving to Chicago, she began singing with the choir at St. James Episcopal Cathedral in their soprano section, and remained with them for 10 years. She then began taking classes at The Second City, where she is now a teacher and music director in their training center, teaching voice, song writing, and musical improvisation. Teaching at St. John's has been a wonderful addition to a very interesting and fulfilling musical life.
Mrs. Murphy has two children, both of whom attend St. John's. Her husband is also a singer, and the whole family enjoys music. She also loves running, dancing, and baking bread. She continues to perform as a music improviser, with a group called "The Improvised Sondheim Project", a group that improvises full length musicals in the style of Stephen Sondheim every Saturday night in Chicago. She has written the music and lyrics for three original musicals.
Mrs. Murphy, and her family, are members of Grace Episcopal Church in Oak Park. "To everything there is a season, and to everything a purpose under heaven."
Vicki Wykert (5th grade)
Email Vicki Wykert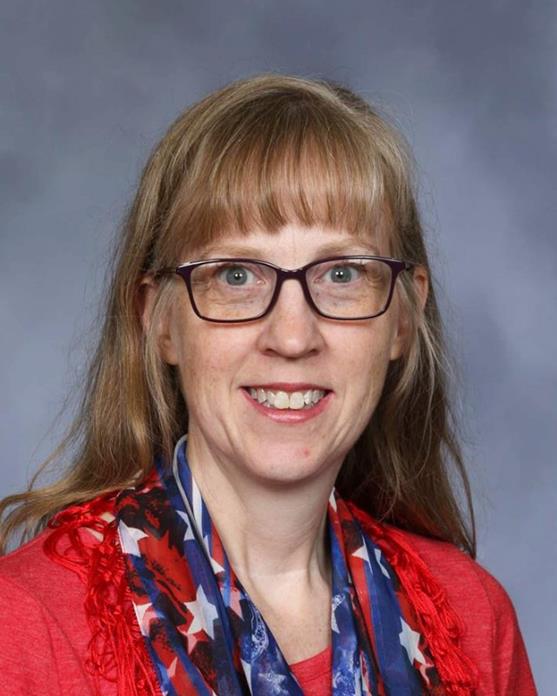 Mrs. Wykert has been the fifth grade teacher since 2016.  She received her B.A. in Elementary Education at Concordia University in River Forest with a science specialization in 1990. She taught third and fourth grade at Tabor Lutheran School in Chicago for one year. She then married her husband Thomas in 1991. Together they took a call to Christ Our Savior in Coppell, Texas where Mrs. Wykert taught first and second grade for 3 years. At that time, Mrs. Wykert stayed home to raise 3 children. She has been blessed with part time teaching of fifth grade and instructional aiding at St. John's since 2010.
In December of 2011, she completed a Masters Degree in Reading and Literacy through Benedictine and completed her training by taking the test to be a Reading Specialist. God has given her the desire to assess, diagnose, and develop strategies that work for the children who struggle with reading. All learning begins with reading. If we can strengthen this area for a child, they can succeed in so many ways.
Mrs. Wykert loves to go for walks, especially with her husband Tom. Family time is important. Along with seeing their children in their various activities, the Wykert family loves the fellowship and growth that occurs in their church life. Rebecca, Peter, and Rachel are graduates of St. John's who reap the benefits of a top notch religious institution that prepared them for the intellectual challenges of high school, college, and career.
Mrs. Wykert loves to give her time to helping students discover the world that God has given them and the plan He has for them. Teaching students to recognize how it all fits together is part of making God and school a part of their life. We are training children to use the strategies developed in school to help them make great discoveries in the world. The world needs independent thinkers, who look at situations in all different ways. The more strategies we are able to equip our children with, the more possibilities they will experience. What a blessing to be a small part of guiding the children toward Him, so that they can use their gifts to further His Kingdom.
Tom Wykert (6th grade)
Email Tom Wykert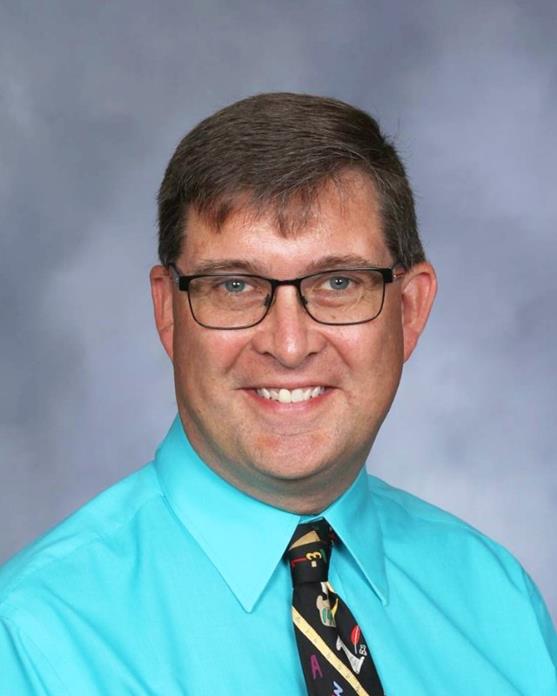 Mr. Tom Wykert is the sixth grade home room teacher and has been teaching at St. John's since 1995.  In addition to teaching sixth grade religion and math, he also teaches seventh grade math, pre algebra, and social studies and eighth grade algebra and social studies.  He is also the athletic director.
As athletic director, he supervises all the sport seasons, coaches several, and hosts an invitational basketball tournament. He helps maintain and improve our technology at St. John's by updating  Renaissance Place, Sycamore, and our website, and by assisting our IT person whenever possible.
Tom graduated from Concordia University in 1991 with a Bachelor of Arts degree. He earned his masters in education from St. Xavier University in 2002.
He lives in Lyons, Illinois with his wife, Vicki, and their three children, Rebecca, Peter, and Rachel. He likes to take walks, ride bikes, read, and go on family vacations to national landmarks. His three special interests are the Chicago Cubs, Star Wars, and the I & M Canal.
Tom has a great desire to share his faith with children and their families. He also enjoys using humor in his teaching because we need to learn to be able to laugh at ourselves and enjoy the world around us.
AnnLaura Tapia (Assistant School Office Manager | Music, grades 5-6)
Email AnnLaura Tapia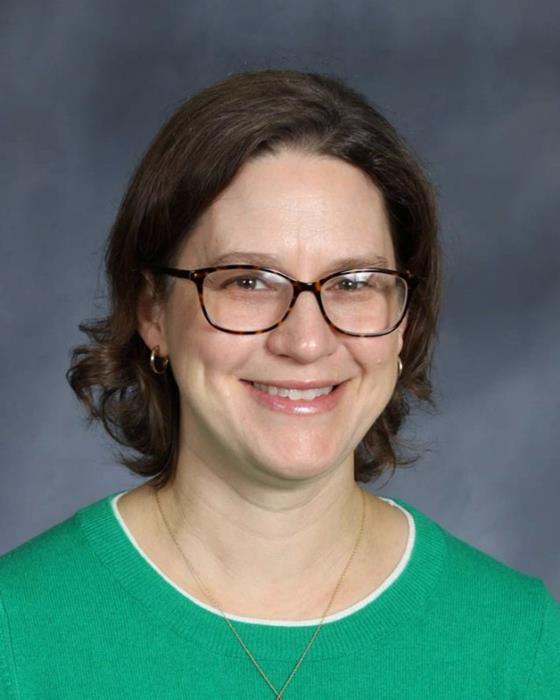 Mrs. AnnLaura Tapia studied for her Bachelor of Music, Harp Performance, at the Cleveland Institute of Music and the University of Toronto. She then completed her Performance Diploma at the Royal Conservatory of Music, Toronto. Mrs. Tapia has performed as a soloist as well as with many orchestras and chamber ensembles, including her flute and harp duo, Abellimento. She continues to perform, and teaches private harp and piano lessons.
Mrs. Tapia teaches 5th and 6th grade music classes, and conducts Jubilee and Joy handbell choirs. She enjoys performing science experiments and going to the zoo with her two children, both of whom attend St. John's. She also enjoys reading, knitting, and cooking.
Dawn Starr (7th grade)
Email Dawn Starr
Mrs. Starr began teaching at St. John's in 2002.  She is the seventh grade home room teacher.  In addition to seventh grade religion and language arts, she also teaches both sixth and eighth grade language arts.
Having earned her Bachelor of Arts degree in education in 2002, teaching is her second career. Mrs. Starr spent sixteen years in the mortgage industry, and after her son Joe was born, she took advantage of an opportunity to go back to school. At Concordia University, River Forest, she realized such a great love for learning that she felt the Holy Spirit leading her to instill that desire to learn in others. What better place to do so than in a Lutheran school!  Mrs. Starr furthered her academic endeavors by earning a Master of Arts degree in Curriculum and Instruction from Concordia University Chicago in 2009.
Philippians 4:13 reveals, "I can do everything through him who gives me strength." One of Mrs. Starr's greatest desires as a teacher is to instill in her students both a love for learning and a longing to take advantage of the opportunities presented to them. While guiding students in their learning endeavors, Mrs. Starr enjoys working to build healthy Christian relationships, while providing her students with a variety of challenges and experiences to express their understanding and expand their knowledge base, thus preparing them for future growth opportunities.
Mrs. Starr has coached both boys and girls basketball at the varsity and junior varsity level. In recent years she has been assistant coach for the junior varsity team at St. John's.
At home, Mrs. Starr enjoys spending time with her husband Joe in LaGrange.  The Starrs have five adult children, and one granddaughter, Ava, born in 2014.  While their adult children Rebecca, Stephanie, Andrew, and Cassandra, now live independently.  Their youngest son Joseph attends Ball State University in Indiana.
Mrs. Starr takes pleasure in many hobbies and interests. She and her husband work a great deal at their tennis game when weather permits. She enjoys reading, writing, quilting and playing guitar in her spare time.
As a member of Concordia Lutheran Church in Berwyn since 1993, she has previously served fourteen years as a Sunday school teacher, six years on its Board of Christian Education, and has played guitar for Concordia's former praise band, "Joyful Noise." Mrs. Starr has served on Concordia's Self Study and Call Committees and on Concordia's Church Council as liaison to the Board of Worship.  Mrs. Starr is active in the English District's L.W.M.L.  She has also lead Bible studies at Concordia, hosting them in her home and on Sundays at Church between services.  Mrs. Starr organizes an on-line prayer ministry at Concordia.
Renee Hull (8th Grade)
Email Renee Hull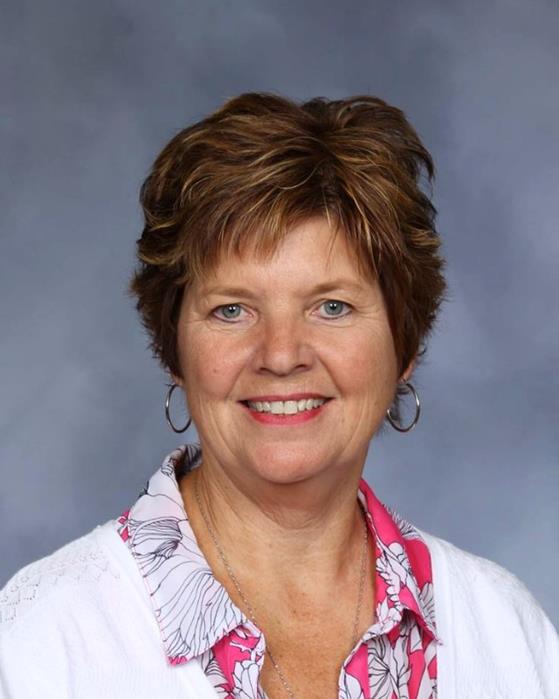 Renee' Hull has over 30 years of experience in Christian education.  She obtained her bachelor's degree from Concordia University in River Forest in 1982, with her concentrations in math and physical education.
Renee' has taught at a variety of grade levels, and has great experiences teaching in the middle school as department teacher in Science. She has also been blessed to be part of school ministry teams using God's gifts in areas such as an assistant principal, athletic director, and  department team leader.
Her school year is filled with developing engaging lessons especially in the area of STEM (Science, Technology, Engineering and Math) to meet the needs of her students.
Her summers are filled with spending time with her family and enjoying her garden, reading, traveling to Michigan and spending time outdoors.
Renee' resides with her husband in Oak Forest.  She has four grown children and three grandchildren.
David A. Lincoln (Director of Music Ministries)
Email David Lincoln
David is a native of the Chicago area. He was raised in Evanston, Illinois, and then in Barrington, Illinois, where he lived primarily.  David has enjoyed a rich diversity of worship and music traditions during his career, which has now spanned thirty years as a professional church musician.
Having held significant positions with the Episcopal, ELCA Lutheran, and Presbyterian Churches, he possesses a wide and varied knowledge of the importance and influence of all traditions and approaches to sacred music that exist in worship today.  Of greatest importance to him is to use the power of music to glorify God.  He is also a strong advocate of enriching and broadening the Worship experience by utilizing musical gifts of parish members.
David holds a Master of Music degree in Church Music from Northwestern University in Evanston, Illinois, where he was named the 1990 recipient of the William H. Barnes Scholarship for organ performance.  His graduate instruction in organ came from Wolfgang Rübsam.  He received his undergraduate degree from Valparaiso University in Valparaiso, Indiana, where he studied organ with William Eifrig and Philip Gehring.
David currently lives in Willowbrook with his wife, Nancy Purcell Lincoln, a Chicago-area soprano.  Together they have a daughter, Alexis Nicole, born March 1, 2003.
Kristen Stapleton (Art and Music)
Email Kristen Stapleton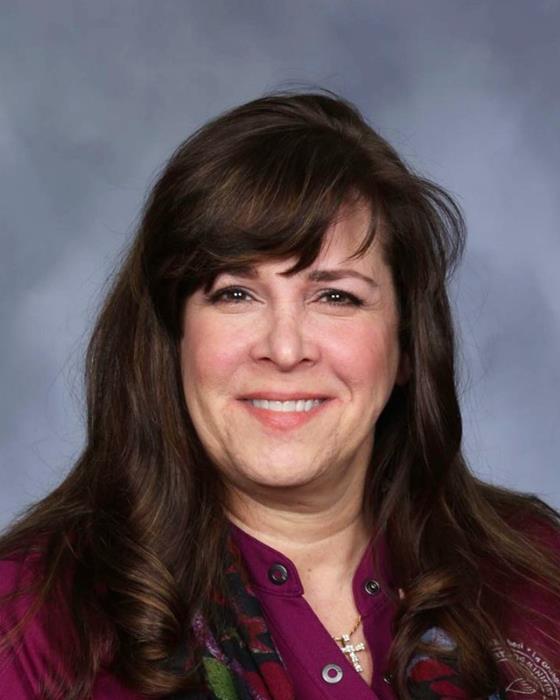 Mrs. Stapleton teaches 8th grade art, and serves as the accompanist for the Junior Choir and Echoes of Praise. She holds a bachelors degree from Valparaiso University, majoring in Fine Arts.  Besides concentrating in drawing, painting and photography, she has had extensive training in voice and piano.  She began piano lessons before age 4, and eventually studied for 9 years at Wheaton College Conservatory.  During high school, she also began taking private voice lessons, and continued studying through college and beyond. Her past vocal teachers included faculty members from Northwestern University and Juilliard School of Music, and she has sung in several choirs in the Chicago area, including Grant Park Symphony Chorus. Her greatest joy is to use music and art to praise God.
Besides her artistic endeavors, Kristen enjoys exercise-especially running, sewing, cooking and entertaining. Her husband, Mark, serves as the Assistant to the Pastor at St. John's.  Together, they are the caregivers and primary handlers for Angel Comfort Dog.  They have two grown children and one grandson, Jack.
Pastor Mark Stapleton (Religion)
Mr. Mark Stapleton teaches 8th grade religion and serves as the Associate Pastor at St. John's. He earned his Bachelor's degree in Education from Western Illinois University.  After teaching middle school for seven years, he became a certified real estate appraiser, and still continues to work as an independent appraiser.  In 2006, he decided to enroll in the Lay Ministry program at Concordia Mequon, Wisconsin. He graduated from the program in 2010 and was installed as a Commissioned Minister of Religion at St. John's Lutheran Church.  In 2018 after completing his colloquy program, he became ordained and was installed at St. John's as Associate Pastor.  With his wife, he oversees the Comfort Dog ministry at St. John's and is primary caregiver/hander for Angel.
Pastor Ben Roberts (Religion)
Pastor Ben is a disciple of Jesus Christ. a husband and father, a pastor and missional thinker, and encourager and a big fan of movies and sports. He was born in Denver, Colorado and lived in the cities of Evergreen, Colorado, Santa Fe, New Mexico and also in Albuquerque.
In 2003, Pastor Ben began his pastoral formation at Concordia Seminary in St. Louis, Missouri. His one-year vicarage internship was served at Trinity Lutheran Church and School in Sawyer, Michigan. He has previously served as sole pastor of Grace Lutheran Church and School in Corona, California, sole pastor of Our Savior's Lutheran Church in Pueblo West, Colorado and associate pastor of small groups and family life at Summit of Peace Lutheran Church in Thornton, Colorado. He has been serving St. John's and the La Grange community since August of 2017.
Pastor Ben received a Bachelor of Arts degree from the University of New Mexico in May of 1995, majoring in English with a concentration in Creative Writing and minoring in Film Studies. He received a Master of Divinity degree from Concordia Seminary in May of 2007. He was one of ten students out of 165 in his graduating class during the 2006-2007 academic year at Concordia Seminary to receive the Reverend Marvin E. Kuhlmann Homiletics Endowment award for excellence in preaching. Pastor Ben and his wife Melissa have also completed the Leadership Essentials cohort of the Pastoral Leadership Institute.
Pastor Ben loves to preach and teach God's Word, to encourage and equip God's people and to creatively and strategically think of ways for God's people to engage the surrounding community and culture in a post-Christian world.
Pastor Ben currently lives in La Grange Park with his wife, Melissa, and their two children, Grace, who attends Lyons Township High School, and Owen, who attends St. John's Lutheran School.
Pastor Ben loves hanging out with family and friends, reading, writing, cooking, watching good movies and television shows, exercising, getting outdoors and folding origami. His favorite sports teams are the Denver Broncos, the Colorado Rockies, the St. Louis Cardinals, the Chicago Bears and the Chicago Cubs.
Stephanie Johnson (Director of Admissions & Marketing)
Email Stephanie Johnson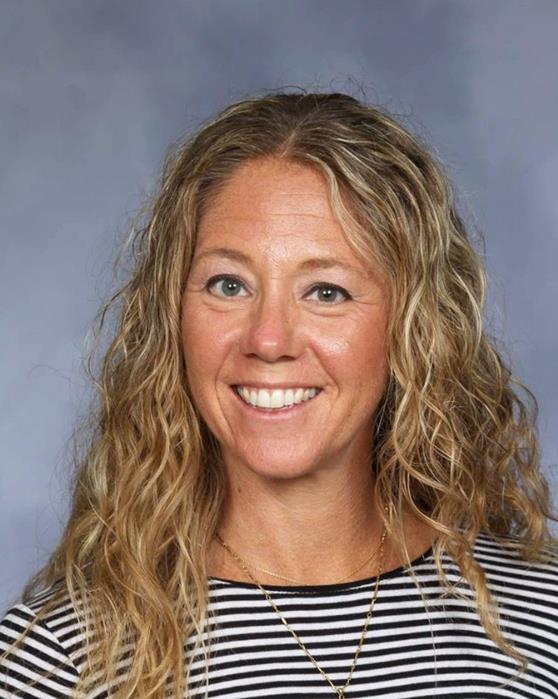 Mrs. Johnson graduated from University of Illinois in 1998 earning her Bachelor's Degree in Sports Management.  Soon after graduation, she pursued a Sports Marketing career.  She worked for the Chicago White Sox for 12 years before deciding to stay home with her three children, Ryder, Gavin and Avery.
Stephanie and her family became members of St. John's Lutheran Church and School in 2005.  Since Ryder and Gavin currently attend St. John's School, Mrs. Johnson was thrilled at the opportunity to become a part of the school's staff where she could be more involved with the school and the daily activities of her children.  She believes in Christian education and has enjoyed watching her children learn and grow at St. John's.
Stephanie and her husband, Todd, reside in Chicago with their children.  They are passionate about sports, fitness and nutrition.  In her spare time, she is a Crossfit Coach where she enjoys helping others reach their fitness goals.