Box Tops for Education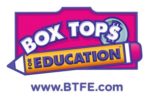 Michelle La Velle is thrilled to be our school's Box Tops for Education™ Coordinator! Clipping Box Tops is an easy way to help earn cash for our school. Each one is worth 10¢ for our school! Just look for the pink Box Tops on hundreds of products. All you have to do is clip them and send them to school.
For more information on Box Tops, including a list of participating products, go to BTFE.com. Be sure to sign up as a member (it's free!) so you can check out our school's earnings details and get access to coupons and bonus offers.
If you have any questions, please don't hesitate to contact Michelle. She is here to help make our school's Box Tops for Education™ program a huge success this year.
Chipotle Night
Make dinner a selfless act by joining us for a fundraiser to support our school!  Visit Chipotle at 40 North LaGrange Road in La Grange on Wednesday, October 25th between 4:00pm and 8:00pm.  Bring in flyer (Chipotle Flyer), show it on your smartphone or tell the cashier you're supporting the cause to make sure that 50% of the proceeds will be donated to St. John's Lutheran School.
PTO has teamed up with Flying High in Countryside for Flying High Pizza Fun Night. Kids can enjoy a three-hour block of fun, games, and activities lead by the Flying High staff.  This is a drop-off event; parents are not expected to stay – only if they want!  This is not a St. John's School Only event, please share with friends and family.  The more kids, the more we raise for our school!  Click here for registration details.
Original Works
St. John's PTO has teamed up with Original Works to offer a really unique fundraising opportunity.  The children create a special piece of artwork which is then turned into a magnet to be previewed by their families.  Families may choose to purchase the magnet as well as order a variety of useful objects (such as notebooks, tote bags, mugs, and keychains to name a few) featuring their child's artwork.
Our fundraising dates are scheduled so items may be used as Christmas gifts for friends and family.
Original Works dates for 2017-18
September 20 & 27:  Art Studio – Available for 4th-8th grade students.  Click here to register
October 5:  Artwork completed by Students
November 1:  Preview magnets are sent home
November 9:  Family orders are due
December 12:  Families receive their products